Posts filled under:
mako
Remember how we all loved Mako from the very beginning and hated Hasook because he was a no-good no-show? Okay, get ready.
Hasook knew the whole time what a jerkbender Mako could be, so that's why he quit. In season 2, Korra runs into Hasook at the Water Tribe food joint, but it's a bit awkward seeing as she is his replacement, but he gives her the benefit of the doubt because she's the Avatar (and he thinks she's pretty hawt). So the two chat it up and become friends, but Mako catches wind of this and of course gets jealous and possessive, not only because it's Korra, but it's his ex-teammate.
I present to you, Kasook.
… They meant between Iroh and Korra? And not Makorra????
The sexual tension that will create… I'm not ready.
Seriously. You're emotionally cheating on Asami, potentially leading Korra on while she's trying to be good friends with your GIRLFRIEND - as in, YOU'RE NOT SINGLE SO STOP ACTING LIKE YOU ARE.
If him and Asami break up, she had better be the one to do it. And even if not, I hope Korra doesn't go out with him, because she should see that he could do to her what he did to Asami. And even if he doesn't, it's still a dick move.
Sassy Asami being sassy with Mako:
Pema trolling Lin:
Tenzin airbender swag fighting:
He's all like
I'm just here like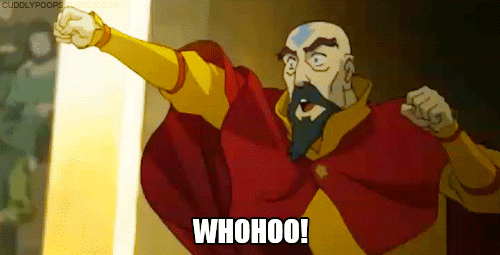 NEW TEAM AVATAR FIGHTING:
Pema, honey, do you REALLY need to go into labor RIGHT NOW???
Equalists about to attack Air Temple Island with my bosoms still on there:
AIR BABIES KICKING ASS
But Lin, the entire time after they left the island…
BUT WAIT… GENERAL IROH? WHO SOUNDS JUST LIKE ZUKO?
Bryke what have you done to us?
He can fucking breathe fire.
He needs to do more of that.
That dude yelling "MY CABBAGE CORP". Bryke why you do this to fandom.
The boys in their swimming suits
Dat Makolin brotherly love
Dat Korrasami
Korra playing with the make-up
But then Hiroshi on the phone
AND WHEN LIN FUCKING FELT THE FUCKING GROUND LIKE TOPH
Tenzin. Tenzin's airbending.
And of course my baby Bolin (THIS ENTIRE EPISODE)…
Asami finding out about her dad and then turning on him
So now I'm just here like
(… yes it is but you know what I mean, fandom)


EDIT: Also I now ship Tahnorra
I'm getting ready for a bombardment of .gifs… any moment now
Top of Page